Dear Colleagues & Friends,
It is with great pride that the Immunization Partners in Asia Pacific (IPAP) invites you to participate at the 7th Asian Vaccine Conference (ASVAC 2019) to be held on 13-15 September 2019 in Yangon, Myanmar.
The Immunization Partners in Asia Pacific (IPAP) is committed in a strong, a progressive and a genuine call to engage various stakeholders in achieving its advocacies in improving immunization coverage in the Asia Pacific region. IPAP envisions "A world where no person shall suffer from preventable diseases."
The next edition of ASVAC 2019 will bring together immunization advocates, academics, government and vaccine manufacturers and practitioners in one unified platform to address challenges in vaccination programs and implementation in the region. We are enormously excited to bring the event in Myanmar with the support of the Myanmar Pediatric Society as the local host. Next year's event will address pressing challenges in sustaining health security in Asia.
The continued support and participation of health professionals from both public and private practice will absolutely make this event another great milestone in the health industry. 
We greatly encourage your participation at this event and we look forward in meeting you in Yangon, Myanmar for ASVAC 2019!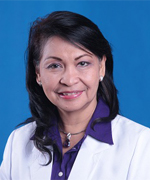 Lulu Bravo

President
Immunization Partners in Asia Pacific (IPAP)